Im a great fan of yellow. It's happy, optimistic and is associated with good times. However it is a much maligned colour where fashion is concerned. It is surprising how many of us avoid yellow. We regularly hear comments of 'I simply cannot wear yellow on my skintone'.
Why do we avoid this stunning, standout colour? That's the key word – it stands out. But actually you really can rock it – even if you prefer to play it safe through accessories rather than the full dress.
It's all in your mind! Yellow is a shining beacon in this season's colour pallette. This shade of yellow – called buttercup – seems to match many skin tones beautifully and is this season's knockout colour.
Yellow combines well with neutrals including white and grey. Also try with black and duck eggs for a muted look.
We urge you to give some of our recommendations a try.
1. The Bodycon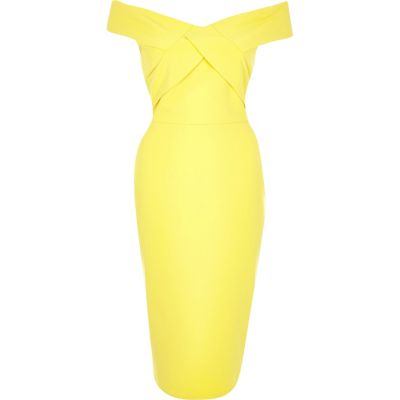 This dress from River Island is a sultry take on this season's colour. Perfect as a standout dress for a night out. Pair with black accessories.
2. A Vintage Take
This dress by House of Foxy is a inspired take on late 40s fashion but a very wearable dress. We love the buttons detail and full skirt. Very sophisticated style. Click here
3. The Jacket
If you're not after a dress – then a statement jacket can rock. This is a great and very practical style from Seasalt. Has a retro feel to it too. Check them out
3. Maxi or bridesmaid
The beautifully slinky Corwin Hi Low Maxi Dress from Coats can be worn 15 different ways, a style to suit every shape.  Simply twist and wrap to create endless stunning styles. This graceful dress hugs the body beautifully and elongates with its skirt which moves effortlessly. This is a great and versatile maxi dress by Coast – click here
4. Accessories
If you arent brave enough to go for a dress, then wearing buttercup in the form of a gorgeous handbag or costume jewellery is a great way to play it safe but still benefit from this sunny and optimistic colour of the season
Check out this stunning shopper by Marc B – click here
5. The Practical Shirt Waister 
This is another great dress from The House of Foxy. Very wearable and practical yet demure and suits the trend for vintage style tea dresses. Wear with nude heals for a great wedding guest dress outfit without outshining too much! Click here
For more inspiration – please check out this great pinterest site which covers all the spring/summer 2016 colours